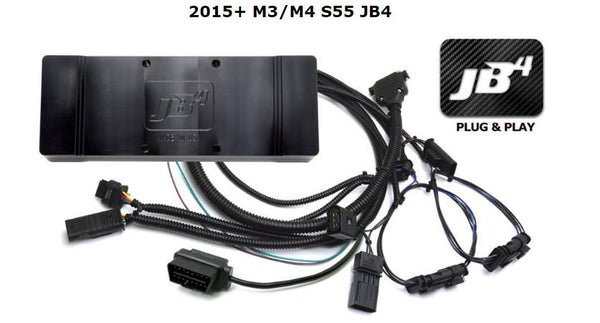 BMS 2015+ M3/M4 S55 JB4
Description:
The ultimate tune for your S55 powered vehicle, the JB4 allows you to go from factory stock to full race, and everywhere in between, with the push of a button on your steering wheel. The JB4 installs and removes easily and includes many unique features not found in any other tune including user adjustable 1st and 2nd gear boost limiting, map switching in dash, electronic wastegate control, ethanol fuel support, and built in advanced CANbus based diagnostic tools. Installation is completely removable with no splicing or cutting of factory wires.

For the latest performance results, updates, firmware, and map guide be sure to visit N54tech.com.
JB4 Map Guide
Map 0: Disable JB4 / Full Pass Through Mode
Map 1: Stage1 map adding approximately 40whp and 40wtq across the power band on pump gas. Suitable for all stages and fuel mixtures.
Map 2: Slightly more aggressive version of map 1 intended for vehicles with exhaust modifications and 93+ octane fuel. Can also be used with E85 and racing fuel mixtures.
Map 3: Slightly less aggressive version of map 1 intended for vehicles running on lower grade fuels such as 91 octane.
Map 4: OEM performance but with JB4 active for diagnostics only.
Map 5: //M low torque / linear throttle map.
Map 6: Custom tuning map.
Map 7: Race gas map. Requires 100 octane unleaded fuel and for the fuel mass connector to be installed. This map can also be used with up to 35% E85.
Map 8: Methanol injection map. Requires BMS FSB controller or methanol kit for progressive mapping and safety systems.