K&N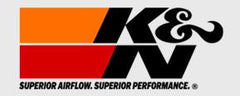 CONTACT FOR SPECIAL PRICING
K&N Engineering in Riverside California is the world's leading manufacturer of washable performance air filters and air intake systems. K&N invented the reusable high flow cotton air filter in 1969 and has been perfecting the technology ever since. K&N is a world class filtration company selling air filters, oil filters, and air intakes in over 30 countries. K&N sells over 5,000 products designed for cars, trucks, motorcycles, engines, and industrial applications. From their Million Mile Warranty to their Consumer Protection Pledge, K&N stands behind their products and their consumers 100%. The distinctive K&N logo represents performance from one of the original performance companies.
High flow filter designed to improve performance Designed for synthetic, conventional and blend...
K&N's drop-in replacement air filters for the new F8X M3 and M4 are designed to increase hors...
Designed to boost acceleration Designed to improve throttle response and engine sound Free-Flowi...