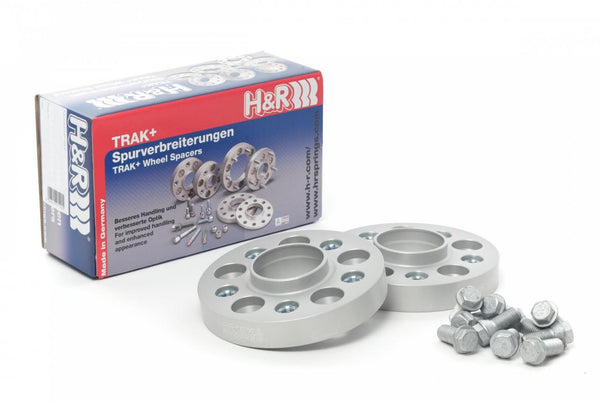 H&R F8X M3-M4 Track+DRA Spacers - 25mm
Description:
Bolt Pattern: 5/120
Bolt/Stud: Bolt
Center Bore: 72.5
Thread Type: 14x1.25
Width: 25mm
Product Details
DRA Series® spacers bolt to the hub with special wheel bolts (included) and provide new threaded holes for the existing wheel bolts.
*TRAK+ Spacers*
If you've ever seen a sleek, European sedan with that oh-so-low street stance and a bulging wheel / tire combo that fits perfectly in the wheel wells, chances are that car was fitted with H&R TRAK+ Wheel Spacers. TRAK+ Wheel Spacers make your existing tires and wheels appear wider by moving the wheel out from the hub, providing both performance and appearance improvements. Whether you want improved handling, increased safety or simply desire your car to make a statement about your individual style, TRAK+ Wheel Spacers can help you accomplish your goal.
*TRAK+ Adapters*
Adapt wheels with a different bolt pattern. Available in thicknesses ranging from 20mm to 25mm, H&R TRAK+ Wheel Adapters change a vehicle's bolt pattern so that wheels from a different vehicle make or model may be fitted. Similar to H&R TRAK+ DRM Series Wheel Spacers, H&R's TRAK+ Wheel Adapters are hubcentric spacers and fit to the vehicle hub just as a normal TRAK+ Wheel Spacer would. Once fitted however, H&R TRAK+ Wheel Adapters feature a different bolt pattern on the wheel side of the spacer allowing for non-standard bolt pattern wheel fitment.
*Features*
* Hubcentric
* Maximizes vehicle track width for great looks, lowered roll center, and increased lateral stability – improved handling
* Made of a proprietary aluminum/magnesium alloy (Up to 70% lighter than a comparable steel product)
* Hard anodized to ensure a tough, durable finish
* Great for use in winter with snow tires and wheels