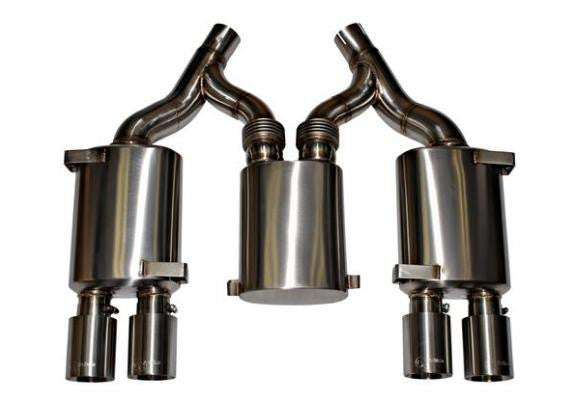 Active Autowerke F8X BMW M3 & M4 Rear Exhaust Section
Description:
THE ULTIMATE F8X BMW M3 & M4 REAR EXHAUST SYSTEM
At Active Autowerke, it's not ONLY about making as much power as possible. For over 30 years, power has been the end result of improved performance due to our relentless desire to develop a refined, quality product. This philosophy behind our performance parts is best represented by one of the newest additions to our F80 BMW M3 and F82 BMW M4 collection.
The Active Autowerke F8X rear exhaust was carefully engineered to eliminate the unflattering sound of the factory M3 and M4 exhaust, while also allowing for optimum flow and resonance. Every effort was made in addressing the not so appeasing sound of the stock OEM exhaust, but in designing an exhaust worthy for an "M" car. We believe our rear exhaust combined with our mid-pipe offers the deepest sound and best performance of any other system on the market today.  Available for both models, this axle-back exhaust gives your BMW the deep, throaty, growl a car of its caliber should have had from the factory!
Made in the USA
18+ WHP gain over stock*
30+ LB-FT gain over stock*
Quicker turbo spool
Low, Deep Rumble
Flex joints to reduce vibration
Double-canned muffler to reduce resonance
Each exhaust test-fit on our F8X Exhaust Fixture
Guaranteed to fit all F80 BMW M3/F82 BMW M4
Includes all necessary installation hardware