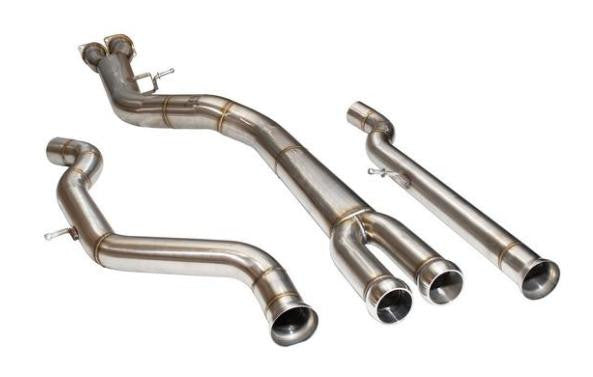 Active Autowerke F8X BMW M3 & M4 Mid Pipe
Description:
Active Autowerke has been an industry leader in engineering high quality BMW performance products for over 30 years. Dedicated to improving performance with the highest quality products, Active Autowerke is synonymous with making power. Our philosophy on developing refined BMW performance parts, with power in mind, and providing them to a large BMW community can be best characterized by our F80 M3 and F82 mid pipe – a valuable addition to our F8X BMW collection.
The Active Autowerke F8X Mid Pipe was specifically designed to eliminate the highly restrictive nature of the OEM F80 M3 and F82 M4 mid pipe – thus creating optimal exhaust flow and drastically improving performance. In addressing the annoying sound ( described by many like that of a weed-eater ) we needed to better understand the issue. After much research and testing we discovered the synchronization of the Turbos as the main factor in the sound. The solution was a single mid pipe which eliminated much of the annoying sound. The next challenge was making a large 3.5" pipe ( needed for optimum performance ) fit without ground clearance issues - thus the oval pipe. Engineered for an exact fit on both the F80 M3 and F82 M4, the difference in power with this mid pipe will be noticeable the moment it is installed!
18+ WHP over stock*
30+ LB-FT over stock*
Improved performance from less back pressure
Deeper & throatier exhaust note
Less restrictive, more free flowing
Lighter weight than factory system
Quicker turbo spool
Increased low end and mid-range power
Single-pipe design eliminates cheap "weed-eater" sound from factory exhaust